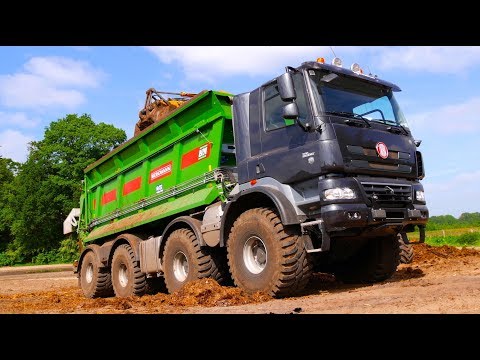 Spreading goat muck using a brand-new Tatra Phoenix 8x8 AgriTruck with Bergmann Muck Spreader of goat farm Olislagers of Esch - The Netherlands. This multifunctional truck is ideal for long distance transport from the farm to the field. It's equipped with large tyres with pressure control and onboard load weighing system. It also can be used with a slurry tank or silage tipper.

Geitenmest verspreiden bij melkgeitenhouderij en mestdistributie Olislagers uit Esch (N-B) met hun nieuwe Tatra Phoenix 8x8 AgriTruck met Bergmann strooier-opbouw.

Thanks for watching!

Subscribe: https://www.youtube.com/user/Tractors...
Facebook: https://www.facebook.com/Tractorspott...

Music by Ehrling
https://open.spotify.com/artist/5wo7d...
https://www.youtube.com/channel/UCkXV...
https://soundcloud.com/ehrling

Disclaimer: The content on my YouTube channel can't be downloaded, published, edited or used without my permission since it's protected by copyright.